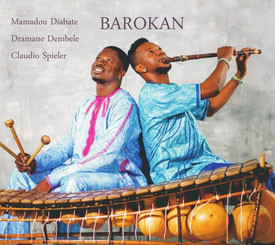 The month of September was rather spectacular for me.  First, I was able to see my beloved friends in Skopje, Macedonia, where people are almost as close as my own blood relatives.  The next little joy I experienced was going to the Without Borders World Music Consortium, where I had the pleasure to re-connect with comrades who spend their days promoting the best of World and Ethno Music in their respective countries.
I am especially indebted to seeing Stefanie Schumann of Delicious Tunes, who introduced me to the work of Mamadou Diabate, a balofon player originally from Burkina Faso (now residing in Vienna, Austria, if I'm not mistaken).  After being blown away by his band, who were showcased on the final evening of Without Borders (along with Breton sensations Plantec), I was given a CD which featured not only Mamadou and fellow countryman, the pelu (flute) player Dramane Dembélé and Austrian percussionist Claudio Spieler.
After having the honor of meeting Mamadou, I was given some rather impressive background information. He comes from a Samba "Jeli" family, and has several works available (all of which we hope to review in the future).
Throughout the disc, the musicians play very comfortably together, as if they had been a trio for a long time. As it turns out, Mamadou and Dramane perform together with some frequency, but Claudio's percussion work underpins the the balafon and peul beautifully.
Where the album shines, however, is when Mamadou sings, especially on the song Koroya. His voice, in harmony with Dramane's reminds me of the best of West African music, and the balafon adds even more body, serving, in some sense, as a third voice.
The record is pretty much flawless, and will we a welcome addition to World Music connoisseurs into their collection.  To purchase the CD, either contact Mamadou directly, or Delicious Tunes.